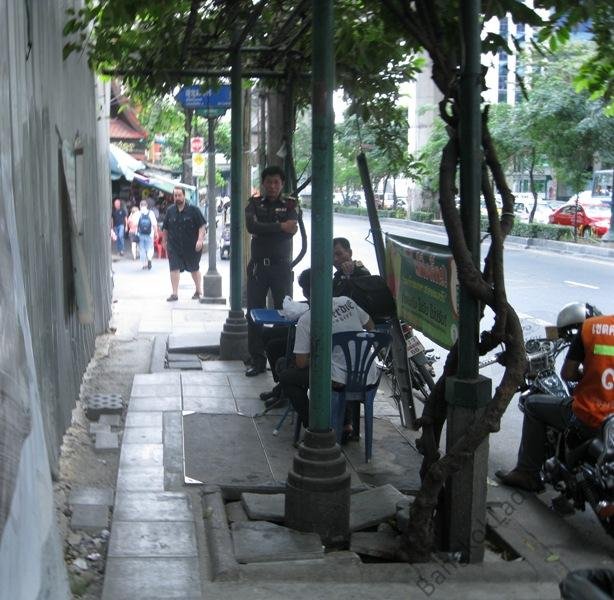 Since I wasn't drinking on my recent trip (Feb 2012) I saw a lot of things I hadn't noticed before. I never really went on long morning walks or early afternoons for that matter. I came across this scene in the photo and didn't realize what it was until one of these fellas in brown stalked me a few blocks then gave me a gentle tap on my shoulder and had me follow him back to this little processing table.
It was the littering police. They handed me a laminated card that stated it was a 2000 baht fine for littering. I plead that I didn't know and apologized. They asked me what country I was from. Then BIB said 2000 baht. I told him I no have. Then he said 1000 baht. "No have" Then he asked me how many more days I would be in Thailand. I told them I leave tomorrow. Then he asked me how much I had. I pulled a wad of baht totaling about 350 baht from my pocket. I figured he would take it all but let me off for 200 baht which is exactly 10% of original fine. no paperwork or anything that looked like it recorded their take.
Smokers/litterers beware. Not really any trash receptacles which is one reason its so filthy in these areas.
I thought this was a new way for the BIB to shale down tourists. Apparently they have been doing it in this area for a few years based on this old Stickman article from 2007.
LITTERING POLICE
Dozens of Police are staked out along the avenues where tourists can be found. They see a cigarette smoker and stalk them like prey. They will radio ahead to fellow police officers and you will be fines 2000 baht for throwing a butt on the filthy sidewalks. The trash receptacle's have been removed. I abhor littering but for them to target tourists only is deplorable. Locals are immune from these fines. Only tourists are targeted, apprehended & intimidated.
The littering Police are earning aprox. 6,000 baht / hour, each. The funny thing is the Police smoke and flick then their butts onto the street.
I estimate the lower Sukhumvit Littering Police are taking in 1 million THB a day from visitors to the Land of Smiles.